How to Holiday-Proof Your Weight-Management Plan
Date:
Tuesday, December 21, 2021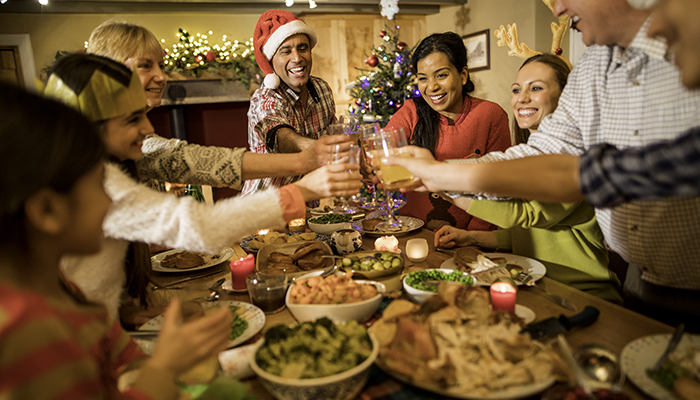 Worried about gaining weight during the holidays? Follow these tips to stay on track!  
When you think of the holidays, what's the first thing that comes to mind? Grandma's pie? Fresh-from-the-oven chocolate chips cookies? Mountains of mashed potatoes swimming in gravy? A loaded plate piled high with all the trimmings?
While that all sounds delicious, for many people they can't help but think of the inevitable weight gain from the month-long eating spree – but it doesn't have to be! Here's how to eat, drink and be merry all season long without derailing your weight-management goals.
Stick to Your Routine
Rather than using the holidays as an excuse to let yourself go, try to stick to your usual eating routine. If your meal is served later than normal, have a snack in the mid-afternoon to help curb your intake. Also, don't skip meals as it will make you more likely to overeat.
Watch Your Portions
For some people, a holiday meal is their Olympics. They see it as a chance to indulge in a variety of special treats they only eat once a year. It doesn't help that holiday platters are often gigantic and placed on the table, which encourages overeating.
Keep an image in your head of the portion sizes you know you should eat and do your best to stick to them. Also, pass bowls and platters of tempting foods to the opposite end of the table to get them out of your line of sight.
Eat Mindfully
Treat holiday meals like a marathon, not a sprint. Take time to chew your food and experience the special dishes you only get to eat once or twice a year. This will help you from overeating.
Step Away from the Table
Holiday meals tend to be more leisurely. But the longer you sit at the table, the more you're likely to absentmindedly grab another spoonful of mashed potatoes or a second slice of pie. Take your plate into the kitchen, brush your teeth, or pop a breath mint in your mouth to signal that your meal is over.

Be Mindful of Liquid Calories
'Tis the season for festive cocktails, which are usually loaded with sugar and empty calories. Before you get into the holiday spirit, set a limit of how many drinks you plan to have, and stick to it. Try alternating alcoholic beverages with calorie-free ones or sip on sparkling mineral water with a slice of lime.
Stay Hydrated
Just because it's no longer hot outside doesn't mean you should reduce your water intake. Drinking water is important year-round, especially during the winter when your immune system relies on a well-hydrated body to keep you healthy.
Start by drinking a glass of water in the morning and right before your meal. If you find it hard to drink plain or cold water, drink tea or enjoy a bowl of soup. Don't forget that watery foods like fruits and vegetables (but particularly cucumbers, melons, tomatoes, and leafy greens) contribute to your overall daily fluid needs.
Keep Moving
Make a commitment to stay on track with your exercise routine. If you can't make it to the gym, watch an online HIIT workout video and break a sweat in your hotel room or living room, take the family dog for a walk, or better yet, get the whole family out of the house and go for a walk! For more seasonal workouts, you could also go ice skating, sledding, skiing or hiking.
Reduce Stress
The holidays can be stressful, which can lead to stress eating. Rather than turning to food, have a cup of tea, take a bath, watch your favorite holiday movie, curl up next to the fire with a good book or meditate.
Get Enough Sleep
Sleep is just as important for your health as nutrition and exercise! A good night's sleep will make it easier to face the daily stresses of the holidays and help you look your best. Keep in mind, both alcohol and caffeine can disrupt normal sleep patterns which make it hard to stay asleep and reach the deepest (and most restful) stage. If you want to wake up feeling refreshed and energized, try to get eight hours of sleep each night.